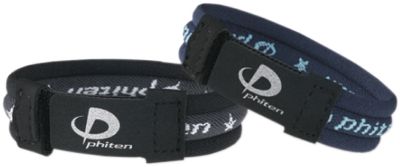 Day after day of practicing, conditioning and playing means stiff joints and sore muscles.
Even if you're giving 100% effort, playing with fatigue and stiffness means you aren't at your absolute best.
Stay consistent — and keep your arms and wrists nice and relaxed — with Phiten's Titanium Bracelet. It relieves stiffness in your arms and wrists with its Aqua-Titanium base.
Aqua-Titanium is a water-soluble titanium generated by binding water and titanium. It controls and re-aligns the flow of bioelectrical current and revitalizes the body.
The core of the Phiten Titanium Bracelet contains micro-sized titanium balls and carbonized titanium. The titanium is absorbed into the fiber of the therapeutic bracelet, where it helps relieve tension and soreness in your arm and wrist.
Get it for $16.99 at Baseball Express.