We're coming up on a brand new baseball season, and that means that plenty of folks around the country will be breaking in brand new baseball gloves.
Here's how some of the MLB's top players break in their gloves.
While we don't endorse Torii Hunter's methods — it'll dry out your laces and reduce the life of your glove — all of the others are sound. And if you're like Jeremy Hermida and prefer breaking in your new glove by wrapping it around a ball, Rawlings has you covered.
The Rawlings Glove Break-In Kit comes with everything you need to break in a new baseball glove (or re-shape an older glove).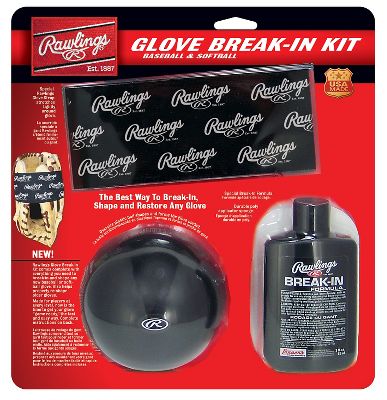 The kit includes a special Rawlings glove strap, specifically designed to stretch tightly around your glove. It beats the heck of jury rigging a system of rubber bands that may or may not actually keep the right amount of tension on your glove.
The kit also includes a bottle of Rawlings' Gloveolium, a glove conditioning cream with lanolin. It not only softens your glove, but it also moisturizes the leather, extending its life. It also comes with a sponge.
And rather than stuffing a handful of balls in the glove, as Jeremy Hermida does, the break-in kit includes an oversized wiffleball — perfect for forming an ideal glove pocket.
Get the kit for $11.99 — and get your order shipped for free when you order this month — at Baseball Express.