Like any good baseball legend, the story of the batting glove starts with a guy who thought he got the day off.
The guy was Boston's Ken "Hawk" Harrelson. As the story goes, the Sox were playing a night game and Hawk was expecting not to play.
He spent the day at the golf course. He arrived at the ballpark that evening with blistered hands from playing 27 holes, and he was surprised to find himself in the starting lineup.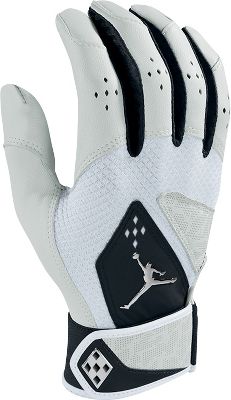 He resorted to wearing golf gloves to protect his sore hands… or so the story goes at least.
Nowadays, batting gloves are commonplace, and for good reason. Not only do they give players a better grip on the bat, but they also provide shock absorption and protection while sliding.
And while there's many gloves out there, there's not many that live up to the exacting specifications of MLB athletes.
Nike's Adult Team Jordan 2011 Batting Gloves are worn by 12-time All-Star Derek Jeter. The cabretta leather batting gloves feature pre-curved fingers, designed to easily conform to the shape of your hand.
They include a comfortable, mesh-wrapped adjustable wrist strap and perforated fingers for ventilation and quick drying.
While they usually retail for $59.99, you can now get these gloves for $39.99 at Baseball Express.