UPDATED February 23 with more information.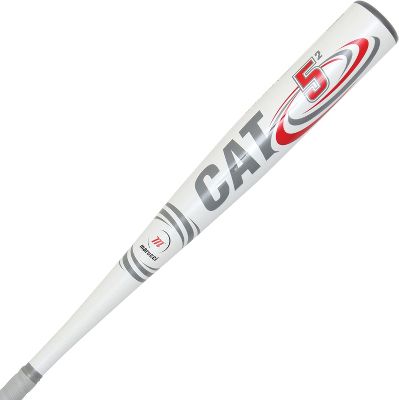 The 33-inch model of the 2011 Marucci Cat 5 Adult Baseball Bat has been decertified by both the NCAA and NFHS, and it will not be legal this season in college or high school baseball.
The NCAA announced the decertification on Friday. The NFHS, the national governing body of high school sports, followed suit on Tuesday in an e-mail memo to state association athletic directors.
As a result, the 33-inch Marucci Cat 5 is considered a non-compliant bat in both leagues and leagues that follow NCAA or NFHS rules.
The decertification affects only the 33-inch model; all other Marucci bats, including the Marucci Black and other Cat 5 sizes are still legal.
The decertification is part of the NCAA's ongoing process of field testing game-used bats. The 33-inch Marucci Cat 5 baseball bat was found to exceed the allowed exit speeds under the BBCOR performance standard.
Marucci has set up a process for customers to return their decertified baseball bats. You can find more information, including instructions on how to complete a return here. You can also contact Marucci at 1-888-768-8118.
Bats must be returned to Marucci by March 31, 2012 to receive a replacement.
Marucci has released a FAQ, which we've re-posted below. If you have any other questions, feel free to post them in the comments.
FREQUENTLY ASKED QUESTIONS
Q: Will Marucci replace my 33×30 Cat52 BBCOR?
A: Yes. We stand behind our products and will replace your 33×30 Cat52 BBCOR with another Marucci bat.
Q: What are my options in replacing my bat?
A: You can find out more details on Marucci's return program for the 33-inch CAT52 BBCOR bat at www.maruccisports.com/returns.
PLEASE DO NOT RETURN YOUR BATS TO OUR STORES – THEY MUST BE RETURNED TO MARUCCI ACCORDING TO THE INSTRUCTIONS FOUND AT www.maruccisports.com/returns.
Q: When can I expect to receive my replacement bat?
A: Marucci will process returns in the order that they are received and anticipates sending out the first replacement bats in March. For those opting to upgrade to the Marucci Black or choosing the Professional-Cut Wood bats, Marucci will begin fulfilling returns immediately.