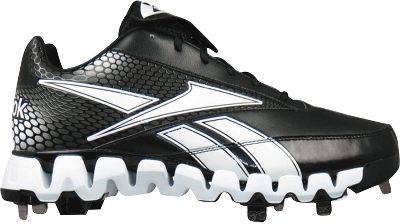 With the holiday season going on, it has been a while since we've featured any new cleats on Footwear Friday. So, we're going to get things rolling again with some of the most unique metal baseball cleats out there.
By now, you might be familiar with Reebok's ZigTech technology. It's a revolutionary new technology that increases the surface area in the "zigs" of the shoe, which gives more area for the shock to disperse. The result is a springy, comfortable ride.
Reebok's Men's Zig Pro Cooperstown Low Metal Baseball Cleats utilize this technology in one of the most interesting cleat designs we've seen lately.
The Zig Pro Cooperstown Metal Cleats feature a set of metal spikes underneath the EVA zig outsole, which provides lightweight cushioning and flexibility for muscle efficiency. The cleat's reinforced toe area makes this a great set of cleats for pitchers.
For comfort: The upper is soft synthetic leather with mesh, and the PlatDry collar lining keeps your foot cool and comfortable. The anti-microbial footbed keeps your cleats nice and funk-free.
Get a pair of Zig Pro Cooperstown Low Metal Baseball Cleats for $114.99 at Baseball Express.
Related: Shop our entire selection of baseball cleats.