If there's one thing we can say about the Team Express Baseball Backpack, it's that it's deceptively small.
It's not huge and bulky like so many other equipment bags out there. You won't need to wrestle it into the dugout, and this baseball backpack is not going to take up half of your closet. In fact, at 14″ x 7″ x 19″, it's downright small.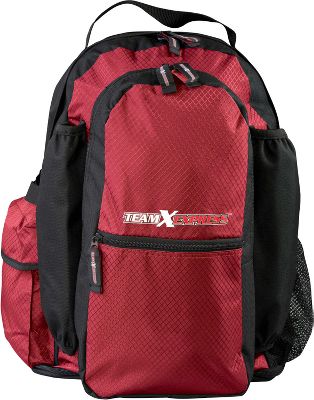 But don't let that fool you. This baseball backpack can hold a lot of stuff.
Let's take a look at all of the features:
Plenty of backpack space for uniforms, batting practice jerseys and accessories.
Two bat sleeves.
Two valuables pockets — on the outside and inside
A water bottle pocket.
A side pocket for extra storage.
A special holder for your Mp3 player, and a port hole to feed your headphones through.
A zipper shoe pocket at the bottom.
A removable cell phone pocket.
Team Express pull tabs.
And an exclusive Team Express luggage tag.
With a rugged ripstop nylon exterior, it can take a pounding. The Team Express Baseball Backpack also has oversized, heavy-duty zippers and hardware, because we know you're going to beat this thing up.
It has a layer of soft foam on the back to protect your back and a hook to hang on chain-link fences.
If that's not enough, the front pocket is perfect for screenprinting. Personalize it with your team name, your logo, your nickname, your girlfriend's name — we'll do it for ya.
And that's not all.
If you order the Team Express Baseball Backpack today and enter the coupon code JGEBAM9 at checkout, you'll save 10% and get the bag shipped to you for FREE.
Related: Browse our entire selection of baseball bags.